Investigate crimes and challenge injustice with our hands-on Law and Criminology degree
Construct arguments, evaluate ethical dilemmas, and make life-changing decisions with our Law and Criminology degree. You will learn to solve and prevent crimes through:
analysing criminals and their motives
assessing current trends
understanding the impacts of crime
evaluating punishment and rehabilitation methods.
You will also build detailed and analytical knowledge of the law, covering areas such as:
criminality
human rights
business
the healthcare sector.
Our law programmes are Qualifying Law Degrees (QLD). After successfully completing this course, you can become a barrister through the Bar Professional Training Course (BPTC) or a solicitor through the Solicitor's Qualification Exam route (SQE).
Hands-on experiences
With our undergraduate law and criminology course, you will learn through diverse hands-on experiences, such as:
simulated negotiation exercises
moot court
pro bono initiatives.
Learn in Legal London
St Mary's is only a 30-minute train ride to London's legal district. Therefore, you will have numerous opportunities to visit:
the Supreme Court
Old Bailey
Royal Courts of Justice
The Law Society
Parliament
the Inns of Court.
Work placements: apply your studies to the real world
You can complete a work placement in the local or wider London area.
Previous LLB Law students have worked at:
private and sole practitioner solicitor firms
barristers' chambers
charities
the Youth Justice Board
Kingston Crown Court.
Devoted and experienced lecturers
You will learn from experienced and enthusiastic staff here to support your personal and professional growth. Our student, Sebastian, tells us that our "outstanding lecturers […] go the extra mile to help students accomplish their goals".
Our dedication to our students meant we climbed 15 places in the Complete University Guide (2023).
Chat to us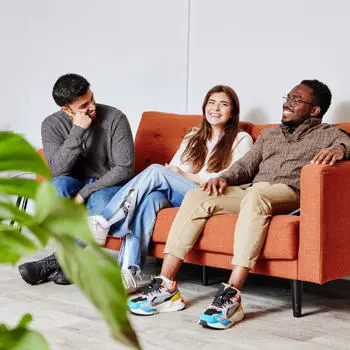 Chat to us
Applying to university can be daunting, and you may have questions about applying, student life, or your course.
Chat now
Course content
Modules
The optional modules listed below are the modules that were available to students in the 2021/22 academic year and are illustrative of what may be offered for 2022/23.
Please note: it is possible that a module listed on the website will not be able to run due to reasons beyond our control. For more information please refer to our course information disclaimer.
Entry requirements
80 UCAS points should include at least two B grades at A Level (or equivalent).
Inclusiveness is one of our core values and we are committed to widening participation. We actively encourage applications from all students as we firmly believe that helping more people from a wide mix of backgrounds to access education contributes positively to individuals and society.
We will make you an offer if you are within the tariff band range and you meet subject-specific requirements (where applicable).
For undergraduate programmes we will take into account subjects studied at Level 3, your GCSEs (or equivalent) profile, relevant non-academic achievements outlined in your personal statement, references, and your motivation for study.
How many UCAS points my grades are worth
Fees & funding
*Please note: these fees are annual and may increase in line with inflation each year subject to the Government's review of Higher Education Funding.
Information about tuition fees, student loans, and funding your studies can be found within our fees and funding section.
Additional costs
Your tuition fees will cover the cost of all mandatory elements of your programme.
Additional costs could be incurred depending on optional modules chosen and other projects undertaken.
For further information about additional costs please see our additional costs webpage.
Living costs
A guide to your living costs has been created by our Student Funding Team.
Accommodation costs vary depending on whether you opt for an en suite room and on-site catering. Take a look at our accommodation options and the prices you can expect to pay.
How the degree is taught
Contact time - 16%
Independent study - 84%
Teaching methods
You'll be taught on our beautiful and historic campus located in Twickenham, London.
The degree makes use of a wide range of learning and teaching strategies. Law is predominantly taught in a classroom environment through a combination of lectures, seminars, workshops and tutorials.
Lectures are held weekly and provide a guide to a topic, highlighting important areas and providing information on matters that may not be readily available from other sources.
Seminars are normally held once a week for each module. The seminars provide opportunities for you to consolidate your learning.
Tutorials are provided for weekly and allow you to discuss a piece of prepared work, for example, a single problem question on a one-to-one basis. Tutorials will also be used as a way of providing feedback to draft plans and also completed assignments.
In addition to these formal sessions, you will be expected to organise meetings with other students in the form of study groups and to prepare for group assessments.
You will also have an opportunity to take part in field trips to the local courts.
We make extensive use of Moodle, the University's virtual learning environment. It's used as a to share important information and resources and for encouraging learning engagement.
In the first year there is an emphasis on tutor-led learning, moving towards a greater degree of self-directed learning in the second year, culminating in a self-managed research project in the third year.
Assessment methods
Assessment types and criteria are clearly linked to the learning outcomes of course. Assessment criteria are used to ensure that you understand the knowledge and skills each assessment is seeking to develop.
You will encounter a variety of different assessment methods, each used to test your subject knowledge, skills and understanding:
Written examinations
Reports
Essays
Oral assessments
Log
Work placement supervisor assessment
Poster presentation
Portfolio
Practical legal skills
Multiple-choice question exams (MCQs)
Feedback
We adhere to the university's policy of providing feedback on assessments within 15 working days.
Career opportunities
With our Law and Criminology degree, you will develop crucial transferrable skills, including critical thinking, communication, and leadership.
You can also contact our Career Services at careersnetwork@stmarys.ac.uk for further information on work and postgraduate opportunities.
Some examples of job roles and areas of work for graduates of Law with Criminology LLB (Hons) include: