Manage the human body and its limitations with our expert-led Sport Rehabilitation degree
Learn how to manage musculoskeletal injuries, master pain management, and support athletes with our Sport Rehabilitation degree. You will train in sports and exercise medicine principles with an emphasis on creating exercise and rehabilitation programmes.
Our sport rehabilitation course is professionally accredited by the British Association of Sport Rehabilitators and Trainers (BASRaT).
Outstanding international reputation
St Mary's has a long tradition of excellence in sport-related degrees. We were the founding higher education institution for sport rehabilitation in the UK, with our first intake of students in 1994.
Our Sport Rehabilitation BSc has evolved to be highly successful, with a global reputation for producing world-class sport rehabilitation practitioners.
Expert teaching and support
You will learn from a team of academics and clinical practitioners here to support your personal and professional development.
Our student, Hayley, explains that our teachers "are experts who continue to work within the field so [they] know [they're] always receiving up-to-date knowledge, as well as one-to-one attention".
Onsite teaching clinic
You'll have access to our Sport Rehabilitation Suites. This onsite teaching clinic allows you to practice and improve your clinical skills under supervision.
Gain additional qualifications
As you'll study our Sport Rehabilitation degree, you'll also gain a qualification in Pre-Hospital Immediate Care in Sport (PHICIS). This will enhance your employability.
Work placements: build professional experience
You will undertake a work placement to apply your learning to clinical practice in a professional environment.
Previous students have completed placements with:
England Women's Rugby
Harlequins
London Broncos
Millwall Academy
Crawley Town FC.
International collaborations
We are an academic member of World Federation of Athletic Training and Therapy (WFATT). This means we collaborate with an international network of academic institutions from countries like:
the USA
Ireland
Greece
Japan
Taiwan.
Natalie Turner
Course Lead BSc Sport Rehabilitation
View profile
Chat to us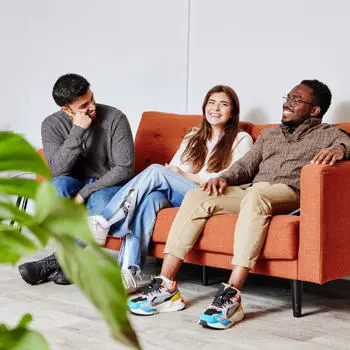 Chat to us
Applying to university can be daunting, and you may have questions about applying, student life, or your course.
Chat now
Course content
Modules
The programme is structured so that the underpinning knowledge and skills are taught in your first year. These are built on during the second and third year, with clear strands running through the programme.
Please note: it is possible that a module listed on the website will not be able to run due to reasons beyond our control. For more information please refer to our course information disclaimer.
Entry requirements
80 UCAS points should include at least two B grades at A Level (or equivalent).
A minimum of a grade B at A level (or equivalent) in Biology, Human Biology or PE and an A Level grade C (or equivalent) in a sport or science subject is required.
We will make you an offer if you are within the tariff band range and you meet subject-specific requirements (where applicable).
For undergraduate programmes we will take into account subjects studied at Level 3, your GCSEs (or equivalent) profile, relevant non-academic achievements outlined in your personal statement, references, and your motivation for study.
How many UCAS points my grades are worth
Fees & funding
*Please note: these fees are annual and may increase in line with inflation each year subject to the Government's review of Higher Education Funding.
Information about tuition fees, student loans, and funding your studies can be found within our fees and funding section.
Additional costs
Your tuition fees will cover the cost of all mandatory elements of your programme.
Additional costs could be incurred depending on optional modules chosen and other projects undertaken.
For further information about additional costs please see our additional costs webpage.
Living costs
A guide to your living costs has been created by our Student Funding Team.
Accommodation costs vary depending on whether you opt for an en suite room and on-site catering. Take a look at our accommodation options and the prices you can expect to pay.
How the degree is taught
Contact time - 45%
Independent study - 55%
*Contact time includes 19% of guided learning
Teaching methods
You'll be taught on our beautiful and historic campus located in Twickenham, London.
A variety of teaching methods are used in the programme. These include theory and practical sessions as well as group and seminar work. In addition, there are multiple online resources available to students to support their learning.
The level 4 (year one) programme begins with an induction in which you work on group activities designed to develop communication, listening and teamwork skills. There is also the opportunity to work together and get to know your peers in a fun setting, whilst practising the skills that are needed throughout the course of the programme.
These themes continue into levels 5 and 6 (years two and three) where clinical placements are included. Surrounding the placements are intensive periods of teaching where the appropriate clinical and academic skills are taught.
Theoretical lectures may contain the entire year group of 80 to 100 people, and in practical sessions, you'll be in groups of 40 to 60 with one member of staff for every 20 students.
Assessment methods
Modules are assessed through a variety of methods, including written theory examinations, vivas, oral presentations and written coursework across all levels.
The practical viva's form a significant part of the assessments due to the clinical nature of the programme. In addition, at level 6 there is an independent research project to complete, as well as a formal clinical examination at the end of the degree.
Feedback
We adhere to the university's policy of providing feedback on assessments within 15 working days.
Career opportunities
Our Sport Rehabilitation BSc will help you develop essential transferrable skills, such as collaboration, communication, and critical thinking.
You can also contact our Career Services at careersnetwork@stmarys.ac.uk for further information on work and postgraduate opportunities.
BASRaT has more information on sport rehabilitation jobs.
Some examples of job roles and areas of work for graduates of Sport Rehabilitation BSc (Hons) include: