Dissect ancient disciplines and contemporary problems with our hands-on Theology, Religion, and Ethics degree
Explore humankind's everlasting search for meaning with our Theology, Religion, and Ethics degree. You will investigate long-held traditions, analyse contemporary issues, and apply your studies to a globalised world.
You will cover topics from across the globe, including:
bioethics
politics and the Bible
religion in contemporary society
world religions
theological anthropology.
Hands-on learning outside the classroom
While on our theology, religion, and ethics course, you will actively learn outside the classroom. For example, you will have opportunities to visit:
international religious sites like Jerusalem or Rome
religious communities
London's major galleries and museums.
Expert teaching and support
Your lecturers are experts with diverse experience and are here to support your personal and professional growth. Our student, Simeon, tells us that our academics are "extremely helpful, friendly, and approachable".
Welcoming to everyone
While the degree takes account of the University's Catholic identity and ethos, we welcome students regardless of belief or faith.
Work placements: build professional experience
You can complete a work placement to apply your learning to a professional environment.
Previous BA Theology, Religion, and Ethics students have worked in:
the religious sector
think tanks
charities and NGOs
schools
units for ethical and social responsibility in the corporate sector.

Dr Jeremy Pilch
Head of School of Theology
View profile
Chat to us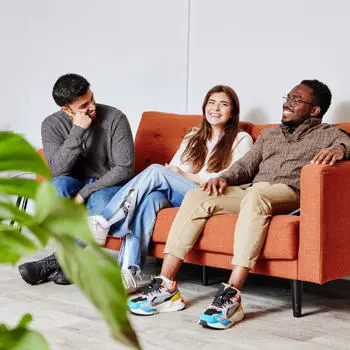 Chat to us
Applying to university can be daunting, and you may have questions about applying, student life, or your course.
Chat now
Course content
Modules
Each year consists of 120 credits. You are expected to gain a minimum of 80 credits in modules offered by the Theology, Religion and Ethics programme, and can choose from a set of non-programme module options for the remaining 40 credits if you would like to.
Please note: it is possible that a module listed on the website will not be able to run due to reasons beyond our control. For more information please refer to our course information disclaimer.
Entry requirements
80 UCAS points should include at least two B grades at A Level (or equivalent).
We will make you an offer if you are within the tariff band range and you meet subject-specific requirements (where applicable).
For undergraduate programmes we will take into account subjects studied at Level 3, your GCSEs (or equivalent) profile, relevant non-academic achievements outlined in your personal statement, references, and your motivation for study.
Further Information
For more information about entry requirements please email apply@stmarys.ac.uk.
How many UCAS points my grades are worth
Fees & funding
*Please note: these fees are annual and may increase in line with inflation each year subject to the Government's review of Higher Education Funding.
Information about tuition fees, student loans, and funding your studies can be found within our fees and funding section.
Additional costs
Your tuition fees will cover the cost of all mandatory elements of your programme.
Additional costs could be incurred depending on optional modules chosen and other projects undertaken.
For further information about additional costs please see our additional costs webpage.
Living costs
A guide to your living costs has been created by our Student Funding Team.
Accommodation costs vary depending on whether you opt for an en suite room and on-site catering. Take a look at our accommodation options and the prices you can expect to pay.
How the degree is taught
Contact time - 36%
Independent study - 64%
*Contact time includes 22% of guided learning
Teaching methods
You'll be taught on our beautiful and historic campus located in Twickenham, London.
Theology, Religion, and Ethics can be studied either full-time or part-time.
Our teaching involves lectures from leading experts in the fields of Christian theology, Religion, and Ethics, drawing from St Mary's leading research centres in Religion and Theology.
We make full use of class seminars, which encourage group work, offer a wide variety of active and interactive tasks, and provide plenty of scope for discussion. We also engage in innovative teaching methods - multimedia delivery of content, creative use of online learning environments, and the active acquisition of digital research skills - which supplement more traditional methods and ensuring the best and most engaging guidance and instruction for you.
Class sizes tend to be between 10 to 15 students.
Assessment methods
We seek to furnish your excellence, experience, and employability through a broad range of assessment methods. This includes written essays and traditional exams, but also oral presentations, short video assignments, reports or reviews of specific texts, visual portfolios of visits to centres of religious significance, interpretive exercises on ancient materials, and a dissertation assessment for final-year students assessing independent thinking and research skills.
This range of assessment methods ensures you attain a variety of skills that make the most of your acquired knowledge.
Feedback
We adhere to the university's policy of providing feedback on assessments within 15 working days.
Career opportunities
With our Theology, Religion, and Ethics degree, you will develop key transferrable skills, including flexibility, analysis, and communication.
You can contact our Career Services at careersnetwork@stmarys.ac.uk for further information on work and postgraduate opportunities.
Some examples of job roles and areas of work for graduates of Theology, Religion, and Ethics BA (Hons) include: