Tell stories that matter to you with our vibrant Creative and Professional Writing degree
Explore yourself and human society through writing with our hands-on Creative and Professional Writing degree. You will fine-tune your craft, work collaboratively, and learn how to give constructive criticism in an encouraging environment.
You will focus on contemporary works to understand the latest developments in the literary world. You will cover:
the publishing world
young adult and children's fiction
narrative and identity
modernism
poetry
lyricism
screenwriting
journalism.
You decide what you write about – we welcome you no matter your background, interests, style, or genre.
Learn in the capital
We are only 30 minutes from central London. Therefore, you'll have access to the capital's diverse literature scene and world-renowned libraries. You can visit places like:
Expert teaching and support
Our BA Creative and Professional Writing lecturers are:
fantasy and horror writing experts
acclaimed book critics
literary novelists
international journalists
TV scriptwriters.
This team supports your personal, professional, and academic growth. Our student, Tom, tells us that this course is "special" due to the generous personal attention from tutors.
A campus with vibrant literary history
You will learn next to Strawberry Hill House. Here, renowned gothic writer, Horace Walpole, designed and lived to inspire his work. As a result, your degree will be a fully immersive and geographically distinct learning experience.

Dr Russell Schechter
Senior Lecturer
View profile
Chat to a student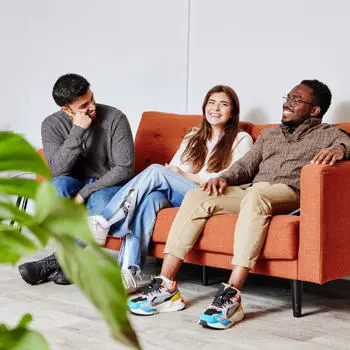 Chat to a student
Applying to university can be daunting, and you may have questions about applying, student life, or your course.
Chat now
Course content
Modules
At St Mary's University we promote an interdisciplinary approach to the Humanities and this is an important and unique part of our offer.
Unlike other Humanities degrees, if your choose to study Creative and Professional Writing at St Mary's you can expand your knowledge by exploring modules across English, History, Liberal Arts, Theology, Film and Politics.
Please note: it is possible that a module listed on the website will not be able to run due to reasons beyond our control. For more information please refer to our course information disclaimer.
Entry requirements
80 UCAS points should include at least two B grades at A Level (or equivalent).
We will make you an offer if you are within the tariff band range and you meet subject-specific requirements (where applicable).
For undergraduate programmes we will take into account subjects studied at Level 3, your GCSEs (or equivalent) profile, relevant non-academic achievements outlined in your personal statement, references, and your motivation for study.
Further Information
For more information about entry requirements please email apply@stmarys.ac.uk.
How many UCAS points my grades are worth
Fees & funding
*Please note: these fees are annual and may increase in line with inflation each year subject to the Government's review of Higher Education Funding.
Information about tuition fees, student loans, and funding your studies can be found within our fees and funding section.
Additional costs
Your tuition fees will cover the cost of all mandatory elements of your programme.
Additional costs could be incurred depending on optional modules chosen and other projects undertaken.
For further information about additional costs please see our additional costs webpage.
Living costs
A guide to your living costs has been created by our Student Funding Team.
Accommodation costs vary depending on whether you opt for an en suite room and on-site catering. Take a look at our accommodation options and the prices you can expect to pay.
How the degree is taught
Contact time - 18%
Independent study - 82%
Teaching methods
You'll be taught on our beautiful and historic campus located in Twickenham, London.
The Creative and Professional Writing programme is taught by means of lectures, seminars, workshops and individual tutorials. Enthusiastic student participation is essential to success in the programme.
Students are encouraged to start creative writing at a very early stage in the course and to regularly share their work with colleagues. There are opportunities for collaborative projects and developing skills in constructive criticism of creative work. Jonathan Gibbs (Programme Director, Creative & Professional Writing) has written an article on the role of the short story in teaching creative writing.
Class sizes range from 15 to 35 students, depending on the module.
Assessment methods
With no exams, the programme - by its very nature - places a premium on practical exercises, coursework and projects, so skills will be assessed by a diverse range of methods.
Modules are assessed on the basis of creative writing portfolios, course workbooks and presentations. Attendance and active participation in writing workshops is an essential aspect of assessment for some modules. All assessment is coursework based, with no examinations.
In the final year of the programme it's possible for you to be assessed in large part on lengthier-scale projects. These will be produced within the framework of a special study or portfolio, under the close supervision of a specialist tutor.
Feedback
We adhere to the university's policy of providing feedback on assessments within 15 working days.
Career opportunities
Our Creative and Professional Writing degree will help you develop key transferrable skills like communication, confidence, and attention to detail.
Contact our Career Services at careersnetwork@stmarys.ac.uk for further information on work and postgraduate opportunities.
Some examples of job roles and areas of work for graduates of Creative and Professional Writing BA (Hons) include: