Please note: applications for September 2024 will open during the week commencing 9th October 2023.
Continue your teacher training journey to achieve Qualified Teacher Status (QTS) with our Primary Education with QTS (Work-Based Route) BA.
Our Primary Education with QTS (Work-Based Route) BA is a top-up degree for people who have successfully completed a foundation degree in education and would like to achieve qualified teacher status (QTS).
The programme will run one day a week from 9am-4pm, so that you can continue to work up to four days a week in your school setting.
Learn from devoted tutors in a supportive environment
Our lecturers are committed to your personal and professional growth. As a result, teaching is completely face-to-face and you'll get bespoke personal tutoring.
One of our students says "teaching at university has been inspiring, taught by knowledgeable and dedicated lecturers. They really could not have done anything more to make my experience amazing."
Ofsted graded St Mary's 'outstanding' in all areas of teacher training in 2019.
Specialise in PE or Special Education Needs and Disability (SEND)
You can choose modules to specialise in either PE or SEND. All modules are core but you can elect to specialise and submit assignments to work towards a specialism. If you choose the SEND specialism, one of the school placements must be in a SEND unit or school. Our Partnership Office can support finding an appropriate placement.
Students choosing our SEND module said "studying this module has now given me the skills, knowledge, and understanding of how to support and teach any child with SEND within the classroom. It has also given me the confidence to advocate for this in my classroom and school."
Our students have also praised the PE specialism, saying it is "a fantastic module with so many resources offered. [They] loved the practical elements, getting involved and learning whilst trying out activities. Teaching elements of lessons inclusively was extremely useful to my practice and putting lesson plans into practice and receiving feedback developed my confidence to teach PE."
Training in Autism and ADHD
Regardless of your specialism, you will undergo essential training in autism – provided by the Autism Education Trust – and ADHD Embrace to help you confidently support pupils with neurodivergence in the classroom.
Catholic Certificate in Religious Studies (CCRS)
If you plan to teach in a Catholic or other Christian schools, you can complete our Catholic Certificate in Religious Studies (CCRS). This is a requirement for those seeking a leadership position in Catholic schools.
Placements
You'll complete school placements in both KS1 and KS2 to meet requirements set by the Department for Education (DfE). If you specialise in SEND, you'll undergo one placement in a SEND setting.

Carolyn Porter
Programme Director - Work-Based Route Programmes
View profile
Chat to us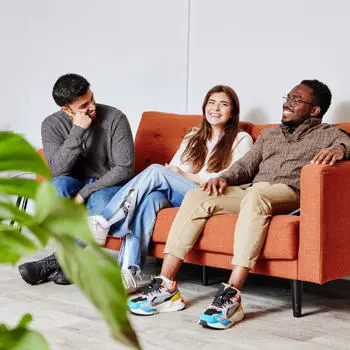 Chat to us
Applying to university can be daunting, and you may have questions about applying, student life, or your course.
Chat now
Course content
Modules
Professional Studies is at the heart of all modules to ensure that students work towards meeting the Teachers' Standards and develop effective knowledge of the primary curriculum. All modules are core but students can choose one elective module to submit assessments for.
Please note: it is possible that a module listed on the website will not be able to run due to reasons beyond our control. For more information please refer to our course information disclaimer.
Entry requirements
We are committed to recruiting trainee teachers who have the 'ability to work in a way that promotes the safety and wellbeing of children and young people.' The interview process will cover the suitability of applicants to work with children and young people.
An A Level, BTEC or NVQ Level 3 or equivalent is required and you must have already gained a foundation degree in Education. To meet DfE requirements, you must also have English language GCSE or equivalent, Mathematics GCSE or equivalent and one Science GCSE or equivalent.
You will need to be employed in work with children and young people for at least two and a half days of the week (in either a paid or voluntary capacity). At least three years' experience working in school (either paid or voluntary) is also required prior to the start of the programme.
Headteacher supporting statement
Your headteacher will need to complete the Supporting Statement Form in order for us to confirm your place on the course. We will notify them of your application, but feel free to send them the link in advance. If they have any further questions, please encourage them to contact Farhana Irshad.
English and Mathematics competencies
Teacher training providers are responsible for assuring trainee teachers have met an appropriate level of skills in Mathematics and English. At St Mary's University, we require that you can demonstrate you are competent in English and mathematics competency skills by the end of your teacher training programme.
DBS check
Successful completion of a physical and mental fitness to teach and a satisfactory enhanced Disclosure and Barring Service (DBS) check with barred lists, which shows the same as an enhanced check plus whether the applicant is on the list of people barred from doing the role are required.
You do not need any UCAS points for this programme. Please disregard information concerning UCAS on these pages.
We will make you an offer if you are within the tariff band range and you meet subject-specific requirements (where applicable).
For undergraduate programmes we will take into account subjects studied at Level 3, your GCSEs (or equivalent) profile, relevant non-academic achievements outlined in your personal statement, references, and your motivation for study.
Further Information
For more information about entry requirements please email apply@stmarys.ac.uk.
How many UCAS points my grades are worth
Fees & funding
Funding Information
Please note this programme is part-time, and the fee is £4,625 per year. Information about tuition fees, student loans and funding your studies can be found within our fees and funding section.
*Please note: these fees are annual and may increase in line with inflation each year subject to the Government's review of Higher Education Funding.
Information about tuition fees, student loans, and funding your studies can be found within our fees and funding section.
Additional costs
We are committed to supporting our students, and there are no hidden costs associated with this programme.
Living costs
A guide to your living costs has been created by our Student Funding Team.
Accommodation costs vary depending on whether you opt for an en suite room and on-site catering. Take a look at our accommodation options and the prices you can expect to pay.
How the degree is taught
Contact time - 52%
Independent study - 48%
Teaching methods
You'll be taught on our beautiful and historic campus located in Twickenham, London.
Please note: contact time is made up from teaching hours, guided learning hours, and work-based learning hours.
The aim of this top-up degree is to develop your professional experience whilst continuing to work. The curriculum is designed to develop your pedagogical knowledge, understanding and skills as well as enhancing subject knowledge which are needed to become an outstanding effective teacher.
Work-Based School Experience (QTS Pathway)
You will be required to gain experience in two key stages in two different school based placements. Throughout the placements you will be assessed by university tutors and your school-based mentors.
Assessment methods
Assessments are designed to demonstrate and build on your skills, knowledge and understanding through:
subject knowledge audits
portfolios
essays
reports
presentations
micro-teaching
practical sessions.
Assessment is continuous throughout the programme and tracked against the Teachers' Standards.
As this is a professional course, very high levels of attendance are expected and monitored closely to ensure you are prepared for each school placement.
Feedback
We adhere to the university's policy of providing feedback on assessments within 15 working days.