Explore the science of nutrition and disease prevention with our applied nutrition course
Deepen your understanding of human health and improve quality of life with our BSc Nutrition course. You will learn how the body uses nutrients, the impact of diet, and the development of disease.
Our Nutrition degree is accredited by the Association for Nutrition (AfN) and by the Hong Kong Nutritionists Society (HKNS). This means you'll be eligible to become a Registered Associate Nutritionist with both bodies. 
Trailblazers in nutrition education
We offer the first undergraduate degree to offer genetic-focused modules. This reflects current trends within industry and, therefore, boosts your employability.
Expert support and teaching
On our nutrition programme, you will learn from a team of dedicated lecturers with diverse industry experience.
Our student, Hailey, explains how the "small lecture sizes and helpful staff members" supported her personal and professional growth.
Outstanding facilities
With our nutrition programme, you will access:
Work placements: build professional experience
You can undertake work experience to apply your learning to fields such as:
community and public health
health education
the food industry.
Past students have worked with:
The Food Standards Agency
School Food Matters.

Dr Magali Chohan
Course Lead BSc Nutrition
View profile
Chat to us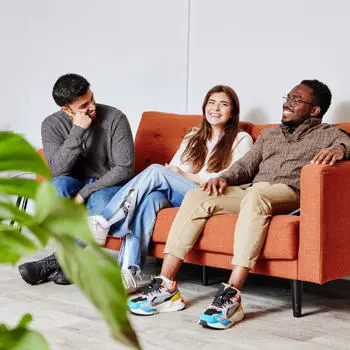 Chat to us
Applying to university can be daunting, and you may have questions about applying, student life, or your course.
Chat now
Course content
Modules
The modules listed below are the modules that were available to students in the 2023/24 academic year and are illustrative of what may be offered for 2024/25.
Please note: it is possible that a module listed on the website will not be able to run due to reasons beyond our control. For more information please refer to our course information disclaimer.
Entry requirements
An A Level (or equivalent) in a science subject is preferred. 
We will make you an offer if you are within the tariff band range and you meet subject-specific requirements (where applicable).
For undergraduate programmes we will take into account subjects studied at Level 3, your GCSEs (or equivalent) profile, relevant non-academic achievements outlined in your personal statement, references, and your motivation for study.
How many UCAS points my grades are worth
Fees & funding
*Please note: these fees are annual and may increase in line with inflation each year subject to the Government's review of Higher Education Funding.
Information about tuition fees, student loans, and funding your studies can be found within our fees and funding section.
Additional costs
Your tuition fees will cover the cost of all mandatory elements of your programme.
Additional costs could be incurred depending on optional modules chosen and other projects undertaken.
For further information about additional costs please see our additional costs webpage.
Living costs
A guide to your living costs has been created by our Student Funding Team.
Accommodation costs vary depending on whether you opt for an en suite room and on-site catering. Take a look at our accommodation options and the prices you can expect to pay.
How the degree is taught
Contact time - 18%
Independent study - 82%
Teaching methods
You'll be taught on our beautiful and historic campus located in Twickenham, London.
Our Nutrition programme team places a firm emphasis on high-quality teaching and excellent student support. Most modules are taught through a combination of lectures, seminars and practical sessions.
Class sizes range from 40 to 50 students, with around 20 students in seminars and practical sessions.
Assessment methods
The degree is assessed through a variety of methods including oral presentations, case studies, portfolios, essays and examinations. These assessment methods are chosen to reflect the wide range of skills and competencies required by a nutrition graduate.
In the final year you will have the opportunity to undertake a research project developed by you, with the guidance of a supervisor, in the field of Nutrition.
Feedback
We adhere to the university's policy of providing feedback on assessments within 15 working days.
Career opportunities
With our Nutrition BSc, you will gain crucial transferrable skills, such as communication, leadership, and adaptability.
You can also contact our Career Services at careersnetwork@stmarys.ac.uk for further information on work and postgraduate nutrition opportunities.
Some examples of job roles and areas of work for graduates of Nutrition BSc (Hons) include: