Nurture your individuality and imagination with our hands-on Acting degree
Challenge your imagination and potential with our London-based Acting degree. You will work collaboratively and independently, studying techniques from various cultures, histories, contexts, and practitioners. You will cover subjects like:
movement and voice
devising
acting methodologies
digital production
acting for camera
You will also participate in:
a showcase in Central London
second and third year productions.
Audition for free
Your audition – free and on-campus – will involve:
a workshop
an individual piece
an interview.
Visit our auditions page for more information.
Hands-on learning with experts
Our acting course is intensive. You will receive guidance from experts, such as:
industry professionals
directors
actors.
Learn outside the classroom
We are surrounded by numerous local theatres and are only 30 minutes from London Theatreland. Therefore, you'll have plenty of opportunities to build your network, knowledge, and experience in acting.
Cutting-edge facilities
You will learn in our creative arts facilities, which include our:
We also have a 320-seat theatre in Twickenham called The Exchange.
BA (Hons) Acting graduates
View the portfolios of our graduates.

Kasia Zaremba-Byrne
Programme Director - Acting
View profile
Chat to a student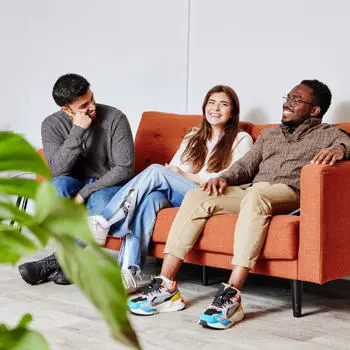 Chat to a student
Applying to university can be daunting, and you may have questions about applying, student life, or your course.
Chat now
Course content
Modules
The modules listed below are the modules that were available to students in the 2022/23 academic year and are illustrative of what may be offered for 2023/24.
Please note: it is possible that a module listed on the website will not be able to run due to reasons beyond our control. For more information please refer to our course information disclaimer.
Entry requirements
80 UCAS points should include at least two B grades at A Level (or equivalent).
We will make you an offer if you are within the tariff band range and you meet subject-specific requirements (where applicable).
For undergraduate programmes we will take into account subjects studied at Level 3, your GCSEs (or equivalent) profile, relevant non-academic achievements outlined in your personal statement, references, and your motivation for study.
How many UCAS points my grades are worth
Fees & funding
*Please note: these fees are annual and may increase in line with inflation each year subject to the Government's review of Higher Education Funding.
Information about tuition fees, student loans, and funding your studies can be found within our fees and funding section.
Additional costs
Your tuition fees will cover the cost of all mandatory elements of your programme.
Additional costs could be incurred depending on optional modules chosen and other projects undertaken.
For further information about additional costs please see our additional costs webpage.
Scholarships
The Stage are offering two tuition fee scholarships for the Acting BA (Hons) degree programme. The scholarships will cover the full cost of tuition fees for three years of study.
A range of additional scholarships and bursaries are available to new undergraduate students. This includes:
Living costs
A guide to your living costs has been created by our Student Funding Team.
Accommodation costs vary depending on whether you opt for an en suite room and on-site catering. Take a look at our accommodation options and the prices you can expect to pay.
How the degree is taught
Contact time - 82%
Independent study - 18%
*Contact time includes 18% of guided learning
Teaching methods
You'll be taught on our beautiful and historic campus located in Twickenham, London.
The course is predominantly (90%) taught through practical classes and workshops, as well as rehearsals for productions.
The Contextual Studies strand of the degree is taught in lecture seminars (10%) throughout the course and links to the work you do in practical classes, giving you a wider understanding of the theatre.
Class sizes are usually 20 to 25 students, and year three productions run in casts of 10 to 12.
Assessment methods
Acting, Performance, Voice and Movement modules (comprising 90% of the course) are assessed through practical exercises, performances and workshop demonstrations. The Contextual Studies modules are assessed by essay (two essays across three years) and graduate portfolio in your third year.
Feedback
We adhere to the university's policy of providing feedback on assessments within 15 working days.
Career opportunities
With our Acting degree, you will develop essential transferrable skills like teamwork, communication, and adaptability.
Contact our Career Services at careersnetwork@stmarys.ac.uk for further information on work and postgraduate opportunities.
Previous students have secured careers as: