Train to coach sports performers with a Strength and Conditioning Science degree at St Mary's University – the front-runner for strength and conditioning education
Understand how to physically prepare and coach sports performers with our Strength and Conditioning Science degree. You will learn anatomy, neuromechanics, and how to apply your knowledge to the workplace.
Our strength and conditioning science programme is accredited by the National Strength and Conditioning Association (NSCA). Therefore, you'll be eligible for the Certified Strength and Conditioning Specialist (CSCS) qualification in the USA.
Our course also meets the requirements of the UK Strength and Conditioning Association (UKSCA).
International reputation
St Mary's is internationally recognised as the front-runner for strength and conditioning education. Our strength and conditioning science course was the first of its kind in the UK, and we have made sure it evolved to be highly successful.
We help students pursue careers in elite sport. Some of our graduates have performed in:
Olympic and Paralympic games
shows by The Royal Ballet
premiership football
premiership rugby.
Expert teaching and support
You will learn from accredited and highly experienced coaches here to aid your personal and professional development. Our student, Ben, tells us how our lecturers supported him during his Strength and Conditioning Science degree.
Build hands-on, professional experience
You will gain crucial coaching experience with our partner clubs and organisations, such as:
Crystal Palace FC
London Irish RFC
University London Boat Club
Sutton Tennis Academy
Royal Ballet Company.
If you decide to spend a year studying abroad, you will also build coaching experience in college American football and NCAA basketball – a rare experience in the UK.
Share facilities with Olympians
You will learn in our 5,000-square-foot Performance Education Centre – part of our world-class facilities used by Olympians.
You'll also access our state-of-the art:
About the Foundation Year
Our four-year degree programmes (including a foundation year) provide an alternative route to undergraduate study at university if you do not have the grades to access higher education in the traditional way.
Shaun Joffe
Lecturer - Strength and Conditioning Science
Chat to us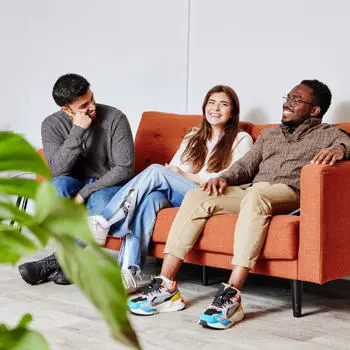 Chat to us
Applying to university can be daunting, and you may have questions about applying, student life, or your course.
Chat now
Course content
Modules
The modules listed below are the modules that were available to students in the 2023/24 academic year and are illustrative of what may be offered for 2024/25.
Please note: it is possible that a module listed on the website will not be able to run due to reasons beyond our control. For more information please refer to our course information disclaimer.
Entry requirements
80 UCAS points should include at least two B grades at A level (or equivalent). One A level or equivalent should be in a Science (including sport).
We will make you an offer if you are within the tariff band range and you meet subject-specific requirements (where applicable).
For undergraduate programmes we will take into account subjects studied at Level 3, your GCSEs (or equivalent) profile, relevant non-academic achievements outlined in your personal statement, references, and your motivation for study.
Further Information
For more information about entry requirements please email apply@stmarys.ac.uk.
Fees & funding
*Please note: these fees are annual and may increase in line with inflation each year subject to the Government's review of Higher Education Funding.
Information about tuition fees, student loans, and funding your studies can be found within our fees and funding section.
Additional costs
Your tuition fees will cover the cost of all mandatory elements of your programme.
Additional costs could be incurred depending on optional modules chosen and other projects undertaken.
For further information about additional costs please see our additional costs webpage.
Living costs
A guide to your living costs has been created by our Student Funding Team.
Accommodation costs vary depending on whether you opt for an en suite room and on-site catering. Take a look at our accommodation options and the prices you can expect to pay.
How the degree is taught
Contact time - 60%
Independent study - 40%
*Contact time includes 42% of guided learning
Teaching methods
You'll be taught on our beautiful and historic campus located in Twickenham, London.
Teaching and assessment methods are broad, varied and innovative with a strong support network from staff. Teaching methods include lectures, seminars, workshops, practicals, labs, problem-solving sessions, computer based sessions and peer teaching.
Year one of the programme involves over 140 hours of practical teaching, including a module where students are coached by staff for 50 hours.
Class sizes range from 40 to 60 students per year.
Assessment methods
Assessment methods reflect the skills that are valued by employers in industry and include DVD production, excel programming, oral presentations, laboratory reports, website design, essays, practical vivas and written exams.
Feedback
We adhere to the university's policy of providing feedback on assessments within 15 working days.
Career opportunities
Our Strength and Conditioning Science BSc helps you build highly valued transferrable skills, including resilience, critical thinking, and communication.
Please contact our Career Services at careersnetwork@stmarys.ac.uk for further information on jobs and postgraduate opportunities.
Some examples of job roles and areas of work for graduates of undefined include: