Understand the human body and support people with injuries, illness, or disabilities with our Physiotherapy degree
Restore movement and function to those in need with our London-based Physiotherapy degree. You will examine all areas of physiotherapy, including clinical anatomy, neuroscience, and current trends. You will study a contemporary approach that integrates theory with practical elements.
Our physiotherapy programme is accredited by the Chartered Society of Physiotherapy (CSP) and the Health and Care Professions Council (HCPC).
Expert support and teaching
On our physiotherapy course, you will learn from a team of dedicated lecturers with strong clinical experience. You will also learn in small groups so your teachers can support you to become an exceptional physiotherapist.
Our student, Aikaterini, tells us she always felt "encouraged" by our "devoted team" of academic staff.
State-of-the-art facilities
Under our Physiotherapy degree, you learn in our state-of-the-art facilities, including:
Clinical placements: build professional experience
You will undertake exciting work placements under the guidance of skilled clinicians. You will experience diversity in practice, build appreciation for NHS core values and apply your learning to a professional setting.
Previous students have worked within:
hospitals
clinics
schools
independent sectors
voluntary sectors.

Clare Gibson
Course Lead - Physiotherapy BSc (Hons)
View profile
Chat to us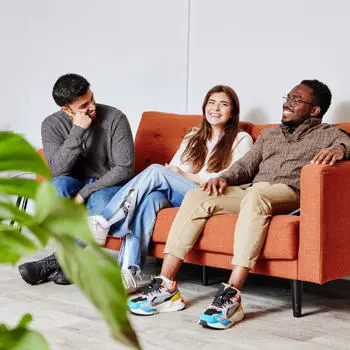 Chat to us
Applying to university can be daunting, and you may have questions about applying, student life, or your course.
Chat now
Course content
Modules
The modules listed below are the modules that were available to students in the 2023/24 academic year and are illustrative of what may be offered for 2024/25.
Please note: it is possible that a module listed on the website will not be able to run due to reasons beyond our control. For more information please refer to our course information disclaimer.
Entry requirements
At St Mary's we would like to help you become the best Physiotherapist you can be. We would like to recruit candidates who are caring, well rounded, problem solvers, who can work with others to deliver a compassionate care package.
Ideally, candidates should be reliable, honest and able to communicate clearly with service users. Candidates who apply should have a strong ethical stance on equality, non-discrimination and fairness (based on NHS constitution and core values, 2013).
We are influenced in our selection for the physiotherapy programme by a number of different factors, over and above your academic record. We like to see evidence of your motivation for a career in physiotherapy, and your outside interests are also a pointer to whether you are the sort of person likely to make the most of the degree.
We will make you an offer if you are within the tariff band range and you meet subject-specific requirements (where applicable).
For undergraduate programmes we will take into account subjects studied at Level 3, your GCSEs (or equivalent) profile, relevant non-academic achievements outlined in your personal statement, references, and your motivation for study.
GCSE
Five GCSEs at grade C/4 or above including Maths, English Language and Science.
We offer GCSE equivalency tests for those who need to improve their GCSE grades.
A Levels
ABB to include either Biology, Maths, Physics or Chemistry.
BTEC
DMM at Extended Diploma level in a Biological Science. Other BTEC qualifications in a related biological science will be considered in combination with other qualifications. The BTEC Extended Diploma in Sport or Health Care are not eligible unless combined with a suitable level 3 Biology qualification.
International Baccalaureate
IB Diploma 33 with a 5 in Biology, Physics, Chemistry or Maths at a higher level.
Access to Higher Education Diploma
Access to Higher Education Diplomas in Science, Human Sciences or Physiotherapy with 45 credits passed at level 3 will be considered. You can use the UCAS calculator to calculate your expected UCAS points. We require a minimum of 12 credits at Distinction or 21 at Merit in modules in Human Biology/Physiology.
Irish Leaving Certificate
Three subjects at H2, which must include either Biology, Physics, Chemistry or Maths and two subjects at H3. Your Maths and English grades must be at least H6 or O3.
Irish Leaving Certificate (Pre-2017)
If your Irish Leaving Certificate results are before 2017 you will need three Higher A2, which must include either Biology, Physics, Chemistry or Maths and two subjects at Higher B2. Your Maths and English grades must be at least Higher D3 or Ordinary B3.
Interviews
If you reach the academic standards we will invite you for an interview to complete the selection process. This is a selective course and applications are assessed through three rounds: initial academic assessment, academic team review and interview.
Enhanced DBS checks
Students will be required to complete a successful enhanced Disclosure and Barring Service (DBS) including child and adult barred list check before admission to the programme. The cost of the required check is £40. Successful applicants will be informed at what stage they should obtain this check, please do not apply for one before you are asked to.
For students who are coming from overseas or have lived outside the UK in the last 5 years, a satisfactory Overseas Criminal Record Check/Local Police Certificate is also required.
Declaring any matter likely to be recorded on your DBS disclosure does not automatically rule you out from becoming a physiotherapist. However, you will have to provide information about this to enable us to make a decision about any offer made.
Please note: not declaring in advance anything that you are aware of may have an impact on the outcome on the decisions we make regarding your application.
Health check and declaration
As part of the Healthcare profession, candidates will need to provide us with a satisfactory health declaration, including evidence of appropriate immunisations, prior to being accepted on the programme.
Students will need to ensure that they have had their vaccination for Hepatitis B, BCG, Varicella, and Influenza where applicable. Details of the Statutory immunisations can be discussed at interview and will be reinforced with the offer letter.
Students will need to sign a Fitness to Practice contract on registration for the course.
First-aid
All applicants will be required to attend a First Aid Training course during their induction week. The cost of this is estimated to be £85 but can be confirmed closer to the date.
Mature students
We strongly value the range of experience that mature students can bring to the course. Please apply so we can assess all of your qualifications together.
Students with disabilities
We take a positive view of what candidates with disabilities can achieve as future healthcare professionals. Our obligation is to make reasonable adjustments to ensure that all students with disabilities can successfully complete their studies.
All applicants will be assessed up to and including the interview on the basis of the criteria outlined here regardless of any disability. If you declare a disability we will work together with the disability team, clinical colleagues and specialist services (RNIB, for example) to explore how best we can support your studies.
Further Information
For more information about entry requirements please email apply@stmarys.ac.uk.
How many UCAS points my grades are worth
Fees & funding
*Please note: these fees are annual and may increase in line with inflation each year subject to the Government's review of Higher Education Funding.
Information about tuition fees, student loans, and funding your studies can be found within our fees and funding section.
Additional costs
Your tuition fees will cover the cost of all mandatory elements of your programme.
You will need to buy student physiotherapy uniform - which is navy trousers and a polo shirt from Graham Gardner Ltd - plus black shoes for clinical placement. A stethoscope will also be needed for the cardio-respiratory module and placements.
You will also need to pay for your own travel expenses to get to and from your placements, which are generally in the Greater London area.
For further information about additional costs please contact dimitrios.sampanis@stmarys.ac.uk.
Scholarships
Physiotherapy students are now eligible for a bursary of up to £5,000 per academic year as long as they are currently actively in study and receiving tuition fee or and maintenance support from the Student Loans Company.
The bursary is paid in instalments throughout the academic year.
We also offer a range of scholarships and bursaries for new undergraduate students. This includes:
Living costs
A guide to your living costs has been created by our Student Funding Team.
Accommodation costs vary depending on whether you opt for an en suite room and on-site catering. Take a look at our accommodation options and the prices you can expect to pay.
How the degree is taught
Contact time - 52%
Independent study - 48%
*Contact time includes 37% of guided learning
Teaching methods
You'll be taught on our beautiful and historic campus located in Twickenham, London.
The programme takes a blended learning approach for knowledge and skills acquisition and development. These include theory and practical sessions as well as group and seminar work. In addition, there are multiple online resources and students encouraged to do guided learning by using these resources in order to support their learning.
The level 4 (year one) programme begins with an induction in which you work on group activities designed to develop communication, listening and teamwork skills. There is also the opportunity to work together and get to know your peers in a fun setting, whilst practising the skills that are needed throughout the course of the programme.
These themes continue into levels 5 and 6 (years two and three) where clinical placements are included. Surrounding the placements are intensive periods of teaching where the appropriate clinical and academic skills are taught.
One of the key characteristics of this course and the blended learning that follows is that students are part of a small cohort of no more than 35 students making theoretical sessions very direct and students to feel supportive by the lectures and mentors. Also, during practical sessions these number can be split to small groups of four people in order to achieve higher performance of students during practical skills.
Assessment methods
Modules are assessed through a variety of methods, including written theory examinations, vivas, oral presentations and written coursework across all levels.
The practical viva's form a significant part of the assessments due to the clinical nature of the programme. In addition, at level 6 there is an independent research project to complete, as well as a formal clinical examination at the end of the degree.
Further information
Feedback
We adhere to the university's policy of providing feedback on assessments within 15 working days.
Career opportunities
With our Physiotherapy BSc, you will develop essential transferrable skills such as communication, problem-solving, and leadership.
You can also contact our Career Services at careersnetwork@stmarys.ac.uk for further information on work and postgraduate opportunities.
Some examples of job roles and areas of work for graduates of Physiotherapy BSc (Hons) include: