Explore past movements and people and how they have shaped the present with our expert-led History degree
Immerse yourself in the global histories of revolution, power, and people from the past to the present day with our BA History degree. You will study the rise and fall of states, the causes of wars and revolutions, and social and political movements.
You will interpret sources, explain how societies change and why this is important. Study with a supportive and stimulating department, and equip yourself to analyse the many challenges of today.
Hands-on learning
Our students tell us that St Mary's is the perfect location to explore history at London's many museums, archives and historic houses, such as:
the British Museum
the Imperial War Museum
Hampton Court
the London Docklands
the Palace of Westminster.
As a student here, you'll have easy access to be able to undertake your own first-hand research.
A history programme led by experts and research
Our curriculum is designed on the principle of research-led teaching by historians who are experts in their fields. Our student, Steph, explains that this has given her invaluable insights and learning experiences.
Our department is placed 2nd for teaching quality in London by the Guardian University Guide 2021.
We genuinely care about our students and will encourage you to think critically, which has positioned our university in the top 10 for student experience (Times Good University Guide 2024).
Recently, one of our history lecturers, Prof Glenn Richardson, guested on the Not Just the Tudors podcast to discuss his biography of Cardinal Wolsey and his rise to and sudden fall from power.

Dr Mark Donnelly
Associate Professor - History
View profile
Chat to us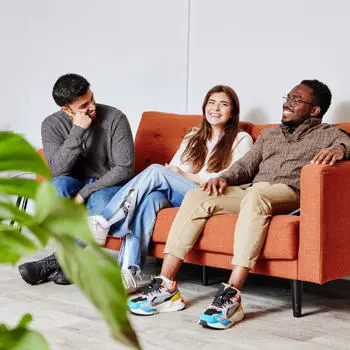 Chat to us
Applying to university can be daunting, and you may have questions about applying, student life, or your course.
Chat now
Course content
Modules
At St Mary's University we promote an interdisciplinary approach to the Humanities and this is an important and unique part of our offer.
Unlike other Humanities degrees, if your choose to study History at St Mary's you can expand your knowledge by exploring modules across Creative Writing, English, Liberal Arts, Theology, Film and Politics.
Please note: it is possible that a module listed on the website will not be able to run due to reasons beyond our control. For more information please refer to our course information disclaimer.
Entry requirements
80 UCAS points should include at least two B grades at A Level (or equivalent).
We will make you an offer if you are within the tariff band range and you meet subject-specific requirements (where applicable).
For undergraduate programmes we will take into account subjects studied at Level 3, your GCSEs (or equivalent) profile, relevant non-academic achievements outlined in your personal statement, references, and your motivation for study.
Further Information
For more information about entry requirements please email apply@stmarys.ac.uk.
How many UCAS points my grades are worth
Fees & funding
*Please note: these fees are annual and may increase in line with inflation each year subject to the Government's review of Higher Education Funding.
Information about tuition fees, student loans, and funding your studies can be found within our fees and funding section.
Additional costs
Your tuition fees will cover the cost of all mandatory elements of your programme.
Additional costs could be incurred depending on optional modules chosen and other projects undertaken.
For further information about additional costs please see our additional costs webpage.
Living costs
A guide to your living costs has been created by our Student Funding Team.
Accommodation costs vary depending on whether you opt for an en suite room and on-site catering. Take a look at our accommodation options and the prices you can expect to pay.
How the degree is taught
Contact time - 40%
Independent study - 60%
*Contact time includes 23% of guided learning
Teaching methods
You'll be taught on our beautiful and historic campus located in Twickenham, London.
The course is predominantly taught through seminars and workshops, where you will work collaboratively with other students to analyse historian's work and a range of primary sources. We will support you in class to develop your ideas and think critically about the periods under consideration.
Some teaching is also done through lectures and tutorials, which are a great opportunity for you to discuss your work with us in detail.
As a student at St Mary's you will also learn about the past and how it is presented through field visits to museums, historic sites and archives.
Class sizes range from ten to 25 students.
Assessment methods
The majority of our assessment is through coursework, although there are a small number of revealed exams.
Our assessment models are different for each module, allowing you to develop a range of demonstrable skills during your degree programme.
Many modules are assessed through essays, but you will also write critical commentaries about primary sources, or review books and articles. In some modules, you may create and present posters, or participate in mini-conferences where you'll present your work to your peers in a supportive and encouraging environment.
You will receive written feedback on all assignments and are encouraged to meet regularly with tutors to discuss your work individually.
Feedback
We adhere to the university's policy of providing feedback on assessments within 15 working days.
Career opportunities
With our history course, you'll learn essential abilities for a successful career, such as research and analytical skills, and effective communication.
For more information, please get in touch with our friendly Careers Service.
Some examples of job roles and areas of work for graduates of History BA (Hons) include: